We're headed down the stretch run of the NBA Regular Season so I'm writing about one of my favorite things on the internet, LeagueFits. LeagueFits chronicles the NBA's best-dressed as they walk down their 'runway' -the tunnel between the stadium parking lot and the locker room. I love LeagueFits because it gives us an intimate view into a player's personality. On-court demeanor and playing style communicate a lot about creativity, but fashion sense says even more. Like Lebron says, they're more than an athlete. Seeing another side of our favorite athletes only serves to increase our fandom. I know I'll never be able to play like these guys, but LeagueFits gives me the sense that I could maybe, just maybe dress like them 🙂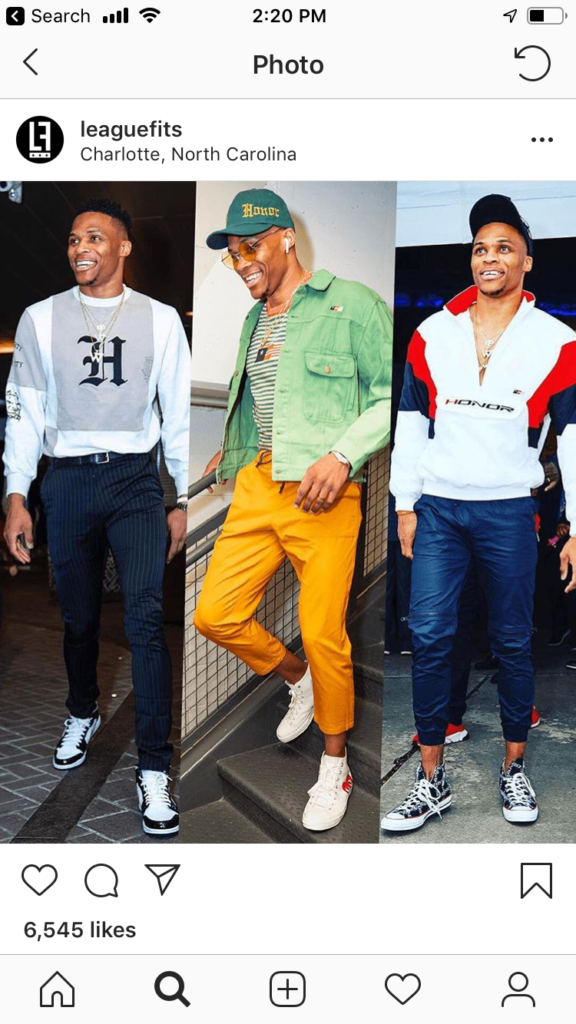 But how did the NBA get the fashion bug and why is this Instagram account such a big deal to me?
At the start of 2005/6 NBA Season, then-commissioner, David Stern instituted a dress-code for players participating in Team or League Activities. The goal was to improve the image of the League, which had been damaged by events such as the infamous 'Malice at the Palace.' There was some initial resistance to the rule, but it pushed the Players to elevate their style and 10+ years in the NBA is as much about fashion as it is basketball. The elevated fashion may have come about regardless – I don't think anyone looked good in the early 2000s – but many think the dress code was the big difference. In a 2014 interview Dwyane Wade commented:
"Then it became a competition amongst guys and now you really got into it more and you started to really understand the clothes you put on your body, the materials you're starting to wear, so then you become even more of a fan of it."
If you follow the NBA at all, you've definitely noticed this. It's commonplace to see LeBron James, Russell Westbrook and James Harden wearing Gucci, Givenchy, Saint Laurent on GQ covers and out on the town.
LeagueFits is the brainchild of its parent brand, SLAM Magazine. One of the things I find so interesting about this is that LeagueFits was born on Instagram and not the SLAM website. It's Instagram Native Media and a it's a great pairing. A photo is the perfect way to capture a Fit and Instagram and NBA share so many qualities: culture-creating, style-craving, youth-laden.
The fact that it started on Instagram and not SLAM itself is consistent with the growing centralization of the Internet. While I generally regard these walled-gardens as problematic, I don't think LeagueFits could have taken off without something like Instagram. I'm into fashion and the NBA, but I really don't know if I'd go to SLAM online or even a dedicated Tumblr (pre-acquisition) to consume this content. So as much as we deride centralization and harken back to the days of the early internet, things like LeagueFits may not have attracted many eyeballs (yes, I realize that I'm talking about an Instagram account of really rich guys wearing really expensive clothing).
But indulge me for bit and let's see where this can go. Instagram seems to be headed the direction of e-commerce platform and a brand like LeagueFits would thrive in such a space. Shoppable Tags already exist on Instagram and a curator like LeagueFits could do significant business through affiliate marketing. It will take more than a 'buy-button,' but that's where the brands like LeagueFits come in. They've created a following by curating an experience – a fun and aspirational one at that. Their followers trust them and trust Instagram enough to purchase something through their feed. If done in an authentic way, Instagram can help creators monetize their posts without alienating their fans. One of my favorite Twitter follows, Jeff Morris Jr., offers a compelling vision for this:
Maybe the 'marketplace' is a standalone App or separate section of the App, leaving posts in the Timeline less cluttered. It will be interesting to see how FB/IG compensates the creators/curators (sellers) given their history of pulling out the rug from underneath them.
Or perhaps the live-streaming commerce model of ShopShops is what drives social commerce to the next level. In their Investment note on ShopShops, Union Square Ventures noted:
"The opportunity to build a major commerce platform that satisfies a different set of consumer needs than Amazon is particularly exciting. We believe that consumers' desire for fun, experience, connection, and community remains strong despite the growing access to speed and convenience."
A creator like LeagueFits could absolutely thrive in this model.
Anyway, can't finish this post without highlighting some of my favorite Fits! So here we go:
Lebron James

PJ Tucker

Dennis Schroeder

Chris Paul

Devin Booker
Credit: LeagueFits